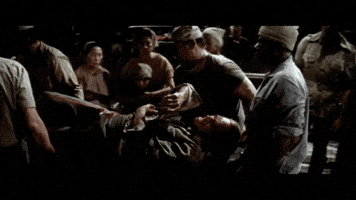 Soylent Green
is a 1973 American ecological
dystopian
thriller film
where the movie's leading character Thorn boards a truck transporting bodies from the euthanasia center to a recycling plant, where the secret is revealed – human corpses are being converted into Soylent Green.
​
By the year 2022, the cumulative effects of

overpopulation

,

pollution

, and some apparent

climate catastrophe

have caused severe worldwide shortages of food,

water

and housing. There are 40 million people in

New York City

alone, where only the city's elite can afford spacious apartments, clean water, and natural food, and even then at horrendously high prices. The homes of the elite usually include

concubines

who are referred to as "furniture" and serve the tenants as slaves.

Within the city lives

NYPD

detective Frank Thorn and his aged friend Sol Roth, a highly intelligent analyst, referred to as a "Book". Roth remembers the world when it had animals and real food, and possesses a small library of reference materials to assist Thorn. Thorn is tasked with investigating the murder of the wealthy and influential William R. Simonson, a board member of Soylent Industries. Thorn learns that Simonson was assassinated.

Soylent Industries, which derives its name from a combination of "

soy

" and "

lentil

", controls the food supply of half of the world and sells the homonymous brand of wafers, including "Soylent Red" and "Soylent Yellow". Their latest product is the far more flavorful and nutritious "Soylent Green", advertised as being made from ocean

plankton

, but is in short supply. As a result of the weekly supply bottlenecks, the hungry masses regularly riot, and they are brutally removed from the streets by means of police vehicles that scoop the rioters with large shovels and dump them within the vehicle's container.​
Nobody would ever think this could happen right?
Well, think again!
Now 20 US states liquefy vaccine-murdered people and spread their flesh goo on food crops as "fertilizer"​
0 US states have legalized the practice of liquefying dead people, dumping their flesh goo down the sewage drains, harvesting the sewage as "biosludge" and spreading it on food crops as a form of fertilizer. (See absolute proof of this in the state government links below.)
Welcome to 2021 in America, where
the dead are liquefied and fed to the living
, almost like a scene ripped right out of
The Matrix
.
As
LifeSiteNews now confirms
, Wisconsin is the latest US state to legalize this practice, which is deceptively named "water cremation." But it uses lye as the chemical ingredient that eats away human flesh, turning it into a slimy goo that's washed off the bones using city water. This resulting "flesh goo" — often the remains of vaccine-murdered citizens — is flushed into the city sewer system and combined with raw human feces, light industrial waste, feminine hygiene products that are flushed down toilets, and other biohazard waste,
then transformed into "biosludge"
which is loaded onto trucks and dumped on food farms.
Now 20 US states have legalized the practice of liquefying dead people, dumping their flesh goo down the sewage drains, harvesting the sewage as "biosludge" and spreading it on food crops as a form of fertilizer. (See absolute proof of this in the state government links below.) Welcome
www.naturalnews.com